La Paris Collection is one of the best choice for who want to build an online fashion store. No matter what your business is, it's of crucial importance to run your own website. Nowadays, people used to surf the web for additional information about the chosen products before they make the final decision of whether a chosen offer is worth of their attention or not.
La Paris is sections shopify theme – this highlight feature can help you manage your site easily. Shopify theme is one of the leading ecommerce platform boasting a rich variety of stunning features for webmasters to work with.
La Paris brings you amazing experience that you never ever had before. In addition to being a catching presentation of your brand, there are several more features that you need to take into account when working on your Ecommerce site.
La Paris have some stupendous features that will do wonders for you, the template will behave as an all inclusive solution for your customers, you will also be able to streamline your fashion store business.
La Paris will help you more than you think, your site should be SEO –Friendly, otherwise it will be difficult for the web audience to come across your site in the search engines.
Therefore, Papatheme gives you top 15 best concept design in La Paris Collection sections shopify themes which will help you to creat any sort of fashion website. Let's discover now!
La Paris 01 – Sections shopify theme for online outfit store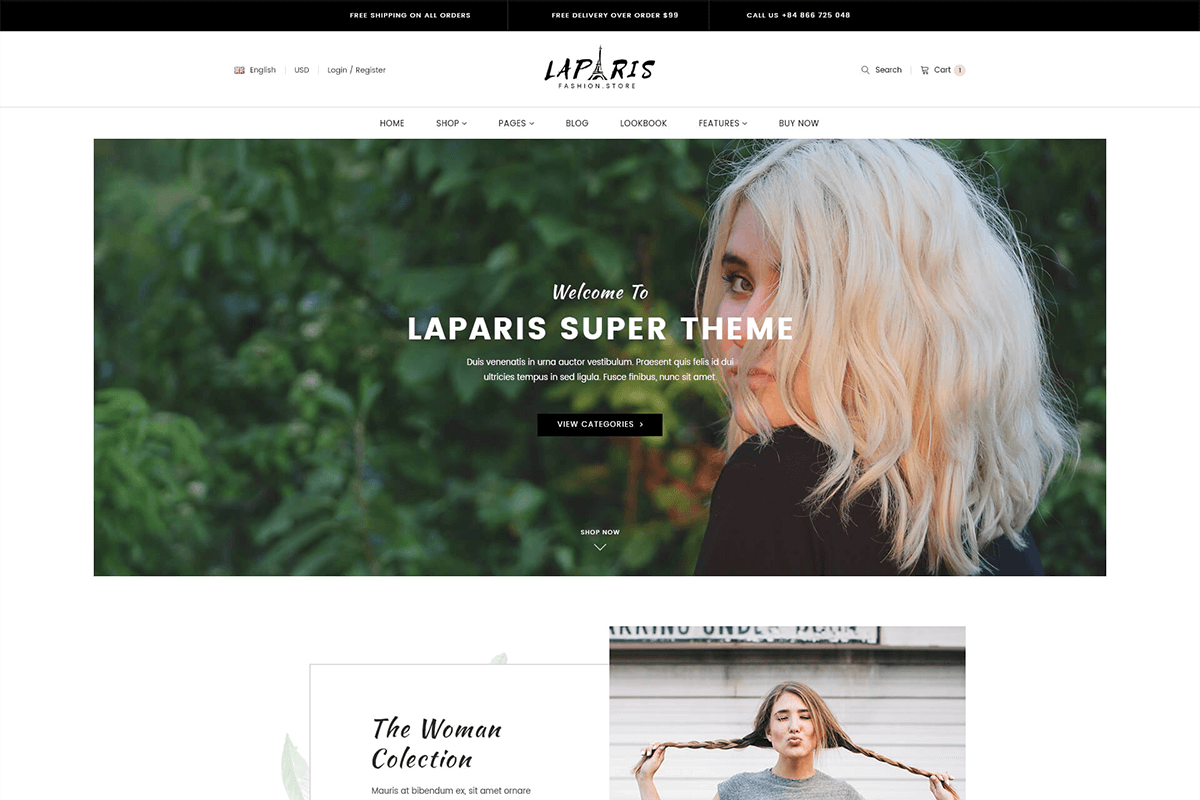 La Paris 01 is designed to suit modern shopping trends, and this template is one of the best way to reach out young women and young men, who can spend a considerable amount on buying clothes.
La Paris 01 has a huge smart slideshow on the top of the homepage, you can update the latest collections, trending in any season or new promotion as your business plan.
With many highlight features such are: Sections, Responsive, Page Builder, SEO boots, you can manage your site, and your orders easily. With Responsive, your site will be displayed perfectly on any devices, from desktop to smartphones, tablets, etc.
La Paris 02 – Amazing Idea For Online Fashion Store
La Paris 02 is great sections shopify theme too, this theme is equipped a bigger slideshow than usual, therefore your customers will be impressed when they visit your site.
La Paris 02 has many new excellent features, such are: Offers user friendly navigation and boasts of elegant design and typography, Paypal payment method integrated. Especially La Paris 02 has powerful and smart website setting panel.
If you want to save your money and your time, you should choose La Paris 02, all thing you need to do is click to buy them, and Papathemes will help you any time.
La Paris 03 – Excellent creative shopify theme for online clothing store
Are you planning build an ecommerce website and increases your revenue? You must have La Paris 03.
La Paris 03 is one of the best seller template in La Paris Collection, this is an excellent creative shopify theme for online luxury clothing store, La Paris 03 allows you manage your site easily than usual.
With Sections function you can change content, tone colors of the homepage, fonts or videos anytime you want. That's so easy.
Offering a numerous of theme styles and endless customizable, you can pick a desired homepage, color, fonts, and design your interface just by few clicks. Thanks to the drag and drop, page builder, personalizing your website has never been easier. All your exciting news items, fashion posts, and blog can be shared in the respective section of the theme.
La Paris 04 – Elegant Creative Responsive Shopify Theme For Online Fashion Store
Papathemes believe that, choosing a great creative responsive shopify theme is one of the most important step for your business plan. If you want to reach out potential customers, Papathemes can help you by La Paris 04
La Paris 04 has a special slider, and this slider has a parallax effect in it that grabs the customer's attention. The theme has a huge product area, so your items can be displayed on the homepage. The fancy fashion clothes and items can be exhibited in the most distinguished way.
Moreover, La Paris 04 is friendly responsive, stylish and modern template for creating a V.I.P fashion store, clothing store or any fashion industry related project or any other type of ecommerce website.
La Paris 05 – Incredible Section Shopify Theme For Online Accessories Store
La Paris 05 is a stylish, innovative and perfect section shopify theme for online shopping websites, especially accessories store. It's really beautiful and clean design will make your site look stunning on all devices.
You can categorize each and any item in a presentable manner present in your online store. Your customer can choose and buy your items easier with this function. If you are running an accessories store, La Paris 05 can help you do that.
La Paris 6 – Wonderful Section Shopify Theme For Online Glasses Store
La Paris 6 is flexible ecommerce sectioned shopify theme well suited for setting up an online glasses shop, gift shop, accessories store or any other type of online store.
La Paris 6 has a stunning one page layout, allowing you to showcase all the necessary information on a single page. If you want to introduce to your customers about information, origin, brand and price, La Paris 6 can help you do it. The skin of this theme also has a dazzling gallery where all your trendy and stylish works can be flaunted.
La Paris 7 – Creative Shopify Theme For Online Watches Store
La Paris 7 – creative shopify theme for online watches store is undoubtedly a brilliant option to build your ecommerce website as it enables you to trade online easily, irrespective of how small or big your watches store is, all your watches stuff can be amazingly displayed in an online shop and enhance your business by increasing the sale of the trendy watches in years.
La Paris 7 is also retina ready, and it lets you choose between varied options for a unique site, dynamic widgets on the homepage and column variations. La Paris 7 is also equipped impressive features such are: sections, page builder, drag and drop, advanced filters,etc.
La Paris 8 – Beautiful Sections Shopify Theme For Clothing Store
With La Paris 8, you can add the stock with categorization and offer prices if any. La Paris 8 allows you give and introduce coupons, reports, order ect. You can even share tips, news through your blog on the homepage, that will increase your click –though rates and bring more traffic to your site.
La Paris 8 supports a full – width slider where all your dominant features can be easily exhibited. Since the customer often find it easy to navigate through a map, La Paris 8 is supported by an integrated Google map navigation which helps customers to locate you quickly. Therefore, you will be satisfied when you choose this theme.
La Paris 9 – Creative Multipurpose Sections Shopify Theme For Fashion Center
With La Paris 9, you can reach out more potential customer than ever. This sections shopify theme is designed focusing on the shop, brands and products. The theme not only has a stunning appearance but also equipped with transition effects like fly-in animation, and parallax scrolling to enhance user experience.
Categories in La Paris 9 are clearly separated by brand, your customers can choose any brands what they love ( Mango, Pureen, Aldo, DKNY, etc). That's great!
La Paris 10 – Best idea for small and medium business
If you want to show your images like a look book on the homepage, you should choose La Paris 10.
La Paris 10 does not has a width slideshow like other theme else, but La Paris's interface can give your customers an impression when they visit your site. La Paris 10 allows all of your image to be displayed as an art gallery. Your customer cannot watch your latest collections, best seller items, but they can watch all your items in short time, and compare them together. That's why La Paris is designed for discount store.
La Paris 10 is designed with large responsive web design, therefore your online store can be displayed beautifully on any devices, such are: desktop, smartphones, tablets, etc.
You can also add more great elements to your website like tabs, banners, contens videos, galleries, sliders and so much more with highlight features, for example: drag and drop, page builder, especially sections.
La Paris 11 – Multipurpose Sections Shopify Theme
If you want to build an ecommerce website, but you still have not decided what theme to choose, La Paris 11 is best answer for you. For new business, it is no more difficult than choosing a template website suits them, and La Paris 11 can help you do it.
La Paris 11 is really incredible platform which help you create your online dream store fast and reliable. La Paris is equipped beautiful slideshow on the top of the homepage, many highlight features, and smart control panel. All your orders, customer's feedback, product's information is always controlled by yourself . That's cool!
Highlight Features:
15+ Best Unique and Top Creative designs
Support Shopify Sections
Responsive Web Design: Design is optimized for all the most popular screen resolutions. When screen is resized, design elements are transformed smoothly on each breakpoint (from 320 to 1680 pixels) in order to adapt to the current resolution.
Dropdown Mega Menu (megamenu:

Dropdown menu support
Pushed menu style in tablet and mobile
Well responsive and mobile friendly

Main Slideshow
Advanced Product Filter
And many more features...
Full Features:
Sections - Drag & Drop Layout Builder
Unlimited Color
Configuring background and color for header, content, footer and some other modules easily
Supporting Internationalizing, enables merchants to use the Shopify Language Editor to translate their storefront content into another language
Mini drop down login
Mini drop down cart
Showing popup message when add to cart
Custom logo, favicon upload easily
Supporting multiple currencies
Supporting Stay Update with Mailchimp
Working Contact form with Google Map
Related Product with slider effect
Easy social sharing buttons on products
Style customer area
Style checkout area
Integration with the Google Web Fonts library
Apply google rick snippet
Custom effect for product image
Beautiful typography
Detailed documentation
What are Shopify Sections?
Shopify Sections is a new feature that was recently introduced by Shopify Official. It make Shopify Themes more customizable than ever. Sections let you empower merchants by giving them greater flexibility when customizing their online store. This new feature allows them to easily add or move content on their homepage with just a few clicks.
Enhance the theme customization with Shopify Sections
Think of sections as individual, customizable components of a theme. Within each section, you or your client can easily add, reorder, and remove chunks of content such as products, slideshows, videos, or collections.
You can preview your changes in real-time in either desktop or mobile view, offering more options to test our updated layouts in Shopify Themes on the fly.
LaParis Sectioned Shopify theme allows to add new sections on your pages. Reordering existing sections. Editing content within sections a breeze.
Do all themes support Shopify Sections?
NO, only the a few of new Shopify themes support sections. LaParis is a new Drag & Drop Sectioned Shopify Theme which was developed to fully support and take advanced of Shopify sections' powerfulness.
A few functionality of Shopify sections come with our themes:
Easy image uploading with image picker
Simplified resource referencing with url setting
Additional updates to the Shopify theme editor
And all other Shopify sections' features.
Included in the purchase package:
Shopify Theme packages to install on your Shopify store
Detailed installation & user guide documentation.